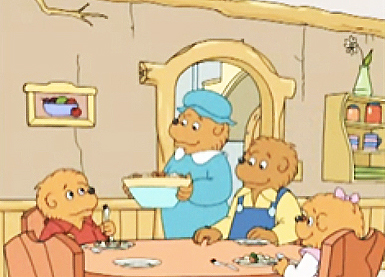 Next year, 20 episodes of the Berenstain Bears animated cartoon series will be broadcast on South Dakota Public Television, with all dialogue dubbed in Lakota. A DVD will be released as well, complete with a Teachers' Guide. This LLC project was initiated last year as part of its mission to promote the language outside of the schools -- and what better way to introduce spoken Lakota to the wider public, than to bring it into living rooms out of the mouths of cartoon bears?
Thirteen Lakota speakers spent two weeks in July at Makoche Recording Studio in Bismarck, ND, and will return periodically during the fall, recording the adventures of Mama, Papa, Brother, Sister, Gramps and Gran, who live in a tree house out in Bear Country.
Through these speakers, who hail from all of the Lakota lands, Lakota comes alive in everyday situations: in the Bears' kitchen, backyard, garage, and playground. The goal of the project is to broadcast the Lakota version across South Dakota, stream from the SDPB website, and distribute DVDs of the programs to schools and reservation communities. The impact of this series in Lakota in this region will be powerful. Children who have never heard Lakota spoken around the dinner table can see it happen when the Bears sit down for a meal. Each episode is 12-minutes in length.
LLC Board Member Ben Black Bear plays Papa Bear, who is an expert in everything and never doubts himself, even when he's wrong. Dainna Red Owl is wise and patient Mama Bear; Naomi Last Horse is Brother Bear, and Bernadine Little Thunder plays Sister Bear. Gramps is voiced by Dakota-speaker George Fool Bear. Other voices come from Ken Little Thunder, Manny Iron Hawk, Peter Hill, Sandra Black Bear, Paulette High Elk, and others.
The DVD and Teachers' Guide will be released in Summer 2011, and the episodes will be broadcast on South Dakota Public Television in Fall 2011. The episodes were originally part of the Berenstain Bears cartoon series broadcast nationally on PBS in 2003. It is still shown on various PBS stations around the U.S. and Canada, and PBS has an interactive learning web site built around the Bears. Standing Rock Sioux Tribe is the co-producer of this project, and as ever, we are grateful for their support. LLC also sends thanks to Berenstain Enterprises for waiving all licensing fees. This groundbreaking Lakota language educational program would not have been possible without their generosity .
Take a look at KX News' story on the "Berenstain Bears" project.
http://www.makochevision.com/laklang.html