The Level 4 Lakȟótiya Wóglaka Po! Speak Lakota! Textbook is now shipping to LLC-affiliated schools and is available to the public. 
LLC always tries to challenge itself to produce a better, more effective textbook with every level of instruction – in a way, we start over each time and push ourselves to new excellence.  Level 4 has definitely raised the bar, with 10 units designed to help children create the most useful kinds of sentences for their age.  Topics focus on activities relevant to children and youth in Lakota Country, such as horse care, vision quest, free time, and sharing.  Grammar lessons allow students to talk about what they like, things they do, and travel, using first, second and third-person sentence constructions.  All of the lessons and activities are conceived to make the act of learning as intuitive and accessible as possible. 
Level 4 brings a new visual style to the Lakȟótiya Wóglaka Po! Speak Lakota! series.  Laura Nikiel, the award-winning illustrator of Sing-Along Christmas Songs and In Jesse's Shoes, brings an optimism and vibrant excitement to Bob, Lisa and the gang, while staying true to the culture and the "world of the child" – that is, how children see and interact with their environment and others around them.  This sensitivity is sure to connect with the "world of the child" in every language learner, no matter how old!
Level 4 also integrates complete stories – illustrated by Nikiel -- into the activities and lessons.  These compelling and fun stories will draw learners into reading and understanding – to find out what happens next!  The stories tell about a grandfather going off to war, an adventure for Iktomi the Trickster, and a Lakota version of "Goldilocks."
 All in all, this book is a great accomplishment for our development team: Linguistic Director Jan Ullrich and second-language education expert Kimberlee Campbell, and layout developer and Liz Woock.  Congratulations, and kind thanks for your hard work!  Students finishing the Level 4 textbook are sure to be moved well forward on their journey towards fluency.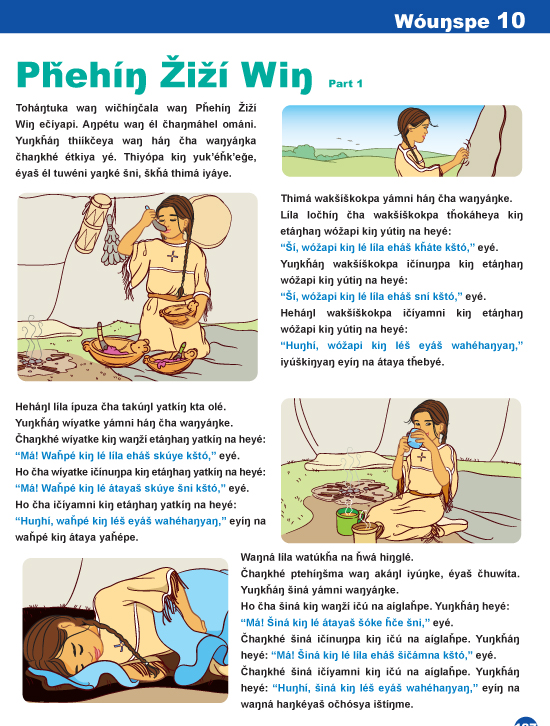 A Lakota Goldilocks story.