Somewhere, the dam broke – and a trickling interest in the Lakota language has become a rushing torrent.
This year's Lakota Summer Institute (June 4-22) completely exceeded all expectations, in attendance numbers, diversity of the participants, and a continuous excitement that changed lives and created new language activists.
The Institute had 86 registered participants, the largest group ever, and many more visitors.  Besides all of our teachers from the Dakotas, participants came from Texas, Virginia, New Mexico, Colorado, Minnesota and Chicago. 
The energy level started high and just intensified over the three-week event.  More than 30 new faces registered for our Schedule A of language study, including many young people.  All of them were enthusiastic and anxious to learn the language.  Boy, did they get a surprise.  They learned quickly why LSI is now known as a "boot camp" for Lakota language.  However, these newcomers really stepped up to the challenge of immersion in phonology and vocabulary.  At the end of the first week, an older Schedule A student told our staff, "I've learned more in one week here than in 20 years of studying on my own – thank you!"
LSI organizers and staff heard many such comments over the three weeks.  The experience was intensely moving and even life-changing, as several younger participants were heard declaring that they now wanted to study linguistics and teach the language.  We who put on LSI every year are very grateful for comments like these, which prove that the mad pressures and hard work going into LSI are all worth it. 
Another outcome that makes the work of LSI rewarding for us, and for everyone, is the friendship that happens.  Veteran participants re-connect with peers and friends from past Institutes, and new friendships take hold in a vibrant spirit of camaraderie – bound together by the experience of learning and speaking a common language.
LSI 2012 was extraordinary for other reasons, recounted elsewhere in this newsletter: a visit from 25 Maori language activists, and the production and performance of a short play in Lakota, Iktomi's Raccoon Hat.  A camera crew was also present during LSI's last week, shooting footage for the documentary film now in production: Rising Voices/ Hótȟaŋiŋpi. 
Still, every year LSI's success is founded on the strength of participants' personal experiences.  LLC Executive Director Wil Meya asked Marilyn Circle Eagle, a teacher at Eagle Butte school, if she and her sister Helene were having fun this year.  Circle Eagle replied, "Of course we're having fun!  Why do you think we come here?"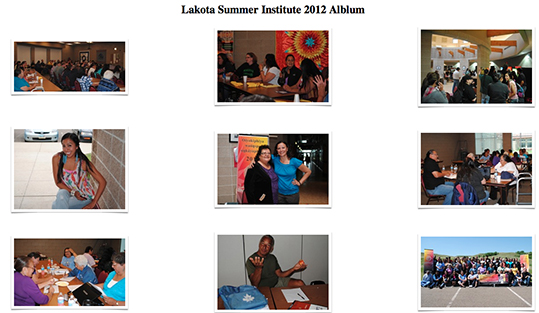 View the complete Album
LSI is a joint endeavor of LLC, SBC and SRST--Many thanks to Sitting Bull College and the Standing Rock Sioux Tribe